Save Space and Gain Privacy with Pocket Doors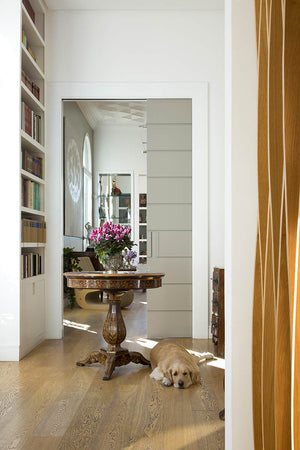 When you are a home owner, you want to make the most of your space. You decorate, paint the walls and add furnishings to have a place that you enjoy. Space is important in the home as every home owner wants to be able to decorate as they wish and enjoy every square inch of the property. In most homes, there are areas that are either too small for doors to fit or the doors used are actually a nuisance. To solve this problem, pocket doors can be installed.
At Peterson Pocket Door System we offer a unique patented pocket door hardware system that enables a lifetime of smooth operating pocket doors in your home.  Pocket doors are doors that are placed on a track above the door frame and slide into a 'pocket' in the wall. These doors come in a variety of styles, colors and sizes and offer you a simple way to add privacy in the home as well as create more space to decorate or for an organized feel.
Pocket Doors Can Be Installed Anywhere
There are many areas in which pocket doors can be installed. In most homes, the doors work well in laundry room or mud room areas, even bathrooms. If you live in a small home, the pocket doors can add extra square footage that was once unused space. Think about any areas of your home that could use more space or rooms that may not have a door at all.
Many times, mud rooms or laundry rooms have small doorways and there is no door installed or you have the accordion doors. When this happens, it can take up too much space or perhaps you want to have a door to shut off noise or clutter. When you install a pocket door, you have the privacy of a standard door without the bulky installation.
You will be able to close off the area, so your home appears neat and clean as well as block off any noise as needed. Plus, when a traditional door is not installed, then you have that wall space to use for furnishings or décor, which would not be used if the swinging door was in place.
Choosing Your Pocket Door
When you decide to have pocket doors installed in your home, you can choose to do so yourself or go with the professionals. It is recommended that you have a professional installation done, especially if you have no experience with installing doors. You will be involved in the process and be able to choose the door type, color, style, etc. Make sure you include our patented pocket door hardware system, that ensures your pocket door never goes off track.
A professional installer knows how to prepare the wall as well as install the track and ensure the door is operational. Once installed, and installed properly, you will be able to use the door for many years to come with no issues.
So, take a look around your home and see where pocket doors may come in handy. Completely change the look and feel of your home with more convenient doorways, with the privacy and extra space you need to be comfortable.